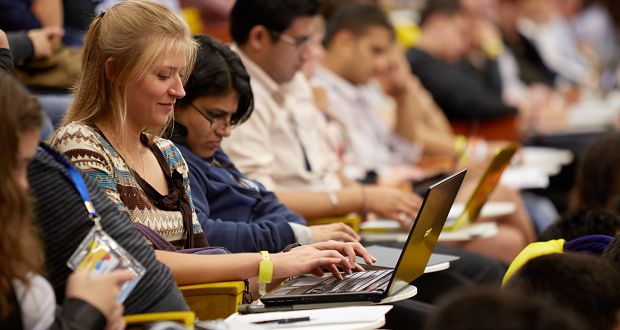 Foreign language skills are invaluable in today's job market. Studying abroad is meant to immerse you in another culture, and it is an ideal time to improve your foreign language skills. Here are a few tips on how to learn a language while studying abroad.
Learn Much of the Language Beforehand
Learn as much of the language as possible before you go abroad. When you immerse yourself in the culture, you're going to hear the authentic language spoken at fast speeds. They're going to use complex vocabulary, slang, and a variety of dialects. This means studying abroad is a great time to improve your fluency. It also means you will be lost unless you have a strong grasp of the language before you go.
A two-week intense course is a minimum before you travel abroad. You can find various courses online that will give you a solid foundation before you go.
Listen to Music in That Language
One of the easiest ways to immerse yourself in a language is to listen to songs you are familiar with that have been translated into that language. You'll automatically translate the lyrics you're hearing into the ones you know. Once you can easily translate the music you know into English, you can start listening to popular regional artists. Since you'll be able to understand much of what they're saying, you can enjoy the lyrics as well as the music. A side benefit of this is that you'll have something to talk to the locals about and you'll be more familiar with their culture.
Read Translated Books
If you have already read a book, you know the plot and the characters. When you read it in a foreign language, you'll be focused on translating the words and phrases instead of trying to figure out both the words themselves and the meaning of the text. Or if you're trying to learn Greek, for instance, you can pick up bilingual Greek language books as well. This is an excellent way to build your foreign language literacy. Better yet, read the words out loud. You'll improve your pronunciation and better absorb the information in the book.
Keep Up with Local Media
If you want to learn a language or get more fluent in it, one of the simplest ways is to listen to the local news. You'll have an opportunity to learn about the issues affecting that society, and there are translation tools to help you understand unfamiliar terms. Reading local newspapers and magazines is a way to learn what the locals consider important, and you'll learn the latest slang terms.
Talk to Local Speakers
When you've learned the formal version of the language from textbooks and apps, you will find that the real spoken language is different. This could be due to accents or dialects. Wherever possible, speak the local language with native speakers. Try to find local speakers in your area before you travel abroad to get practice. Then, when you're in the country, stick to the host language as much as possible. If you mostly stick to fellow English speakers, you won't be truly immersed in the language and culture.
The key to learning a language while studying abroad is to design your life so that you must improve your language skills. Then you'll gain an incredible degree of fluency in record time.