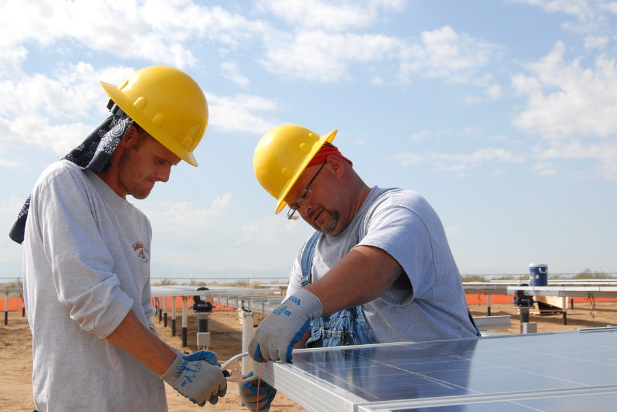 What is a house made of? Well, it depends on where you ask. In Europe, most houses are traditional "brick-and-mortar" buildings, built to last as long as possible. In the US, in turn, most houses are built using a wooden frame and plasterboard, most likely to keep the costs down. But wood, bricks, concrete and plaster are not the only materials that can be used to build a resistant structure a family – or more – can call home. There are alternatives that will last as long as traditional materials, and leave a smaller environmental footprint than them. Oh, and they will leave you with more cash to play red flush online casino games with. Much more.
Straw bales
Hay bale houses are not a new invention, but they are being rediscovered by those seeking for a cheaper, more economical and environmentally friendly home. Straw bales are an agricultural byproduct – the dried stalks of the grains that remain after harvesting. Straw is used in many forms – fodder or bedding for cattle and other animals, for example, biomass for producing energy, or even a raw material for biofuel production. And as building material.
A straw bale house is built on a foundation made of concrete, with a wooden structure and wire mesh to hold it together. The finished walls are covered in plaster, or plasterboards, and finished with the desired pargeting and paint. The straw bale walls are good insulators, and surprisingly inflammable. Such a house can be made of field bales, bales manufactured specifically for construction (which are denser, and support more weight) or even pre-fabricated elements.
Mud bricks
Well, not just mud, but a mixture of mud and straw, known as pise. It was the building material of choice for centuries, before industrial bricks became a trend. And in some areas of Europe they are still used for construction. Pise is a surprisingly good insulator – it automatically regulates the indoor temperature. Pise houses are warm in the winter and cool in the summer, and are surprisingly resistant. Besides, the bricks themselves are easy to make – all you need is a mold, mud, straw and willingness to get your hands dirty.
Wool bricks
The goal of the Spanish and Scottish researchers who created the wool bricks was a "composite that was more sustainable, non-toxic, using abundant local materials that would mechanically improve the bricks' strength". And they succeeded in their endeavour. The mixture of the clay, wool and a special polymer obtained from seaweed has resulted in bricks 37% stronger than the traditional ones, and more resistant to the cold, wet climate of Britain. Besides, these bricks have a reduced environmental footprint, as they dry hard without the need to be fired like traditional bricks.