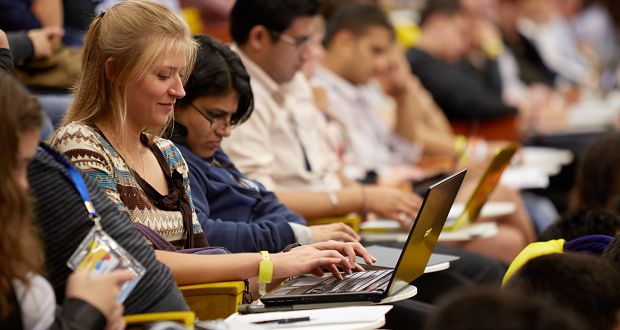 So you've made the decision to transfer schools. Congratulations.
This may be one of the toughest decisions that you'll make during your academic career, but it might also be your most important.
We're several weeks into the spring semester, and the adjustment can feel like an insurmountable challenge.
Maybe you found the transfer process too confusing. Perhaps you're just having trouble getting acclimated to the new environment.
Whatever the case, a little insight from someone (me!) who has been through this before can help.
For a number of reasons, I transferred schools three years ago, and I have never looked back.
It was a difficult process, yes, but my academic and personal lives are better because of it. Here are 4 ways to quickly get on track at your new school.
Meet With Your Advisor Regularly
This is one of the most important actions that you can take when coming to a new school.
I know it might seem like you have everything under control before the semester begins, but transferring is a tricky process.
Your advisor is there to help you. You can look online, though you might find it to be inaccurate and difficult to understand.
Instead, schedule an appointment with your advisor to make sure everything is in order. After all, nothing beats the face time you'll get.
Join New Groups
As a new freshman at college, it can be tough making friends.
The fact that everyone is new and potentially struggling makes it a little bit easier.
Coming into school as a transfer student, however, is far more difficult. Many people have established groups.
To bypass this, look for people in your classes and suggest something simple like a study group.
Join clubs or organizations on campus that have mutual interests. This will help you find people on whom you can rely.
Once you have a new pack to lean on, you'll have a much easier time adjusting.
Slowly Break Reliance On Your Old School
This was tough for me. As tempting as it may be to stay grounded in your old roots, you're inhibiting yourself from adapting to and enjoying your new environment.
I'm not suggesting you completely lose contact with friends at your former school.
I just want you to understand that solely relying on something in your past will do more harm than good.
You need to embrace your new school and your new life that you have.
Make friends and take advantage of the new opportunities in front of you. If you don't, you'll never feel at home.
Look To The Future
This is probably the most important step in transferring. Transferring schools midway through the year can feel like an admission of guilt.
Don't dwell on negative aspects of your transfer. Your transfer is an opportunity to start fresh. Treat it with a positive outlook.
Whether your transfer was for personal or academic reasons, everything behind you is exactly that—behind you.
Focus on correcting any past attitudes to insure you don't make the same mistake twice.
As far as you're concerned, this decision to transfer is the best one you've made regarding your future.
Don't slow down. Buckle up and focus on making this school your new home.
Was your transfer experience different than mine? Leave me a comment below or tweet at me!